---
---
"Available Puppies"
AKC Registered
 please email for details!
deanna@turbofrenchies.com
Updated as of 11.02.22
---
Thanks for visiting our page!
We have puppies available with a wide variety of colors and pricing
We base our pricing on parents, pedigree and colors
Most of our puppies are aimed toward breeding families, while we do offer some companion pricing on some of our puppies to families that
are not looking to breed
We hope you enjoy looking below at the puppies that we have available 
Please email deanna@turbofrenchies.com with any questions that you may have
---
FULL FLUFFY litter is here!!!!!!!!!!!!!
Cowabunga x GiGI
Introducing our Top notch
"TOP GUN"
LITTER!!!!
PRICING starts at $15k and goes up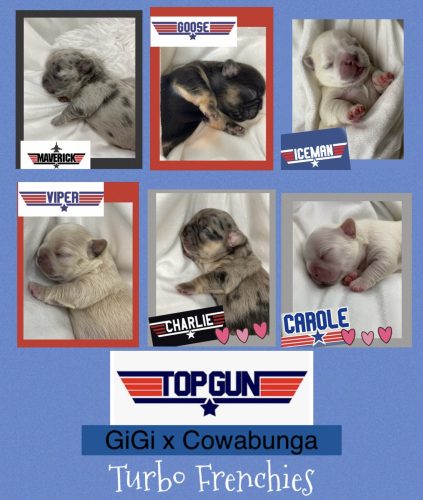 TOP of the line pedigree
Invest in your program with one of these babies, it could change your life!
Cowabunga is a MAUI son
GiGi is a TITAN daughter
If you know anything about fluffies or frenchies, you will know these names!
---
Charlie– Merle Full Fluffy girl
ata Coco DD EMe nM nS l4l4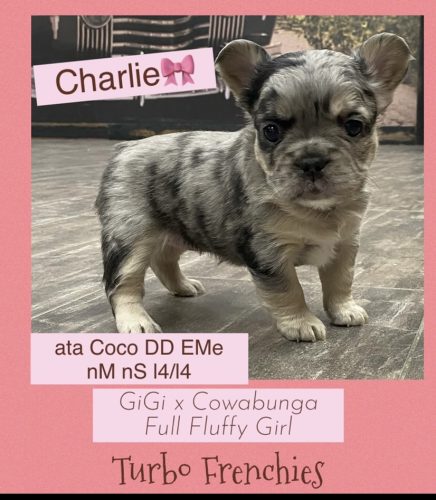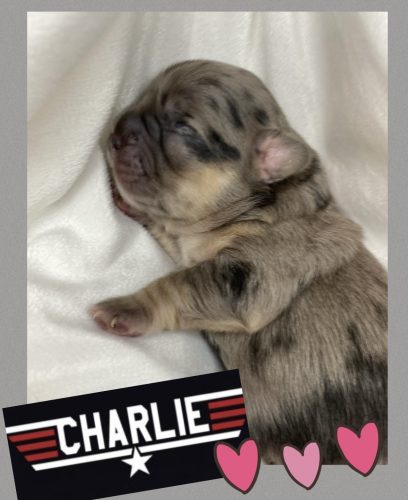 ---
Carole- coco cream full fluffy girl
ata coco DD ee nM nS l4l4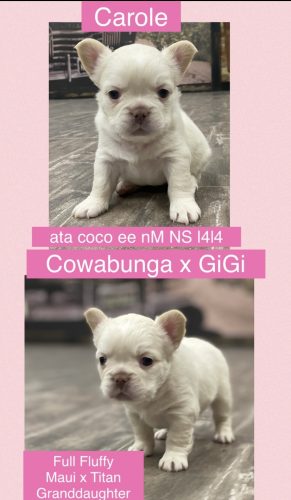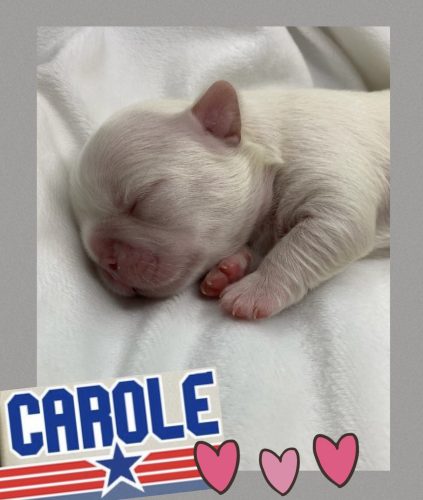 ---
Maverick- blue and tan merle full fluffy boy
ata Coco dd EMEM nM l1l4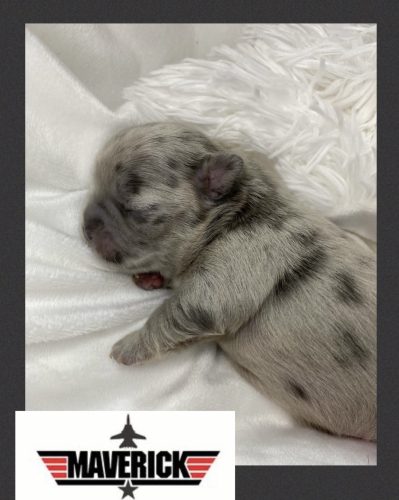 ---
Iceman- Blue cream full fluffy boy
ata Coco dd ee nS l1l4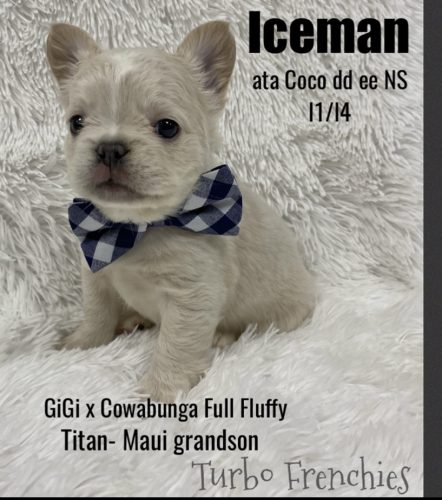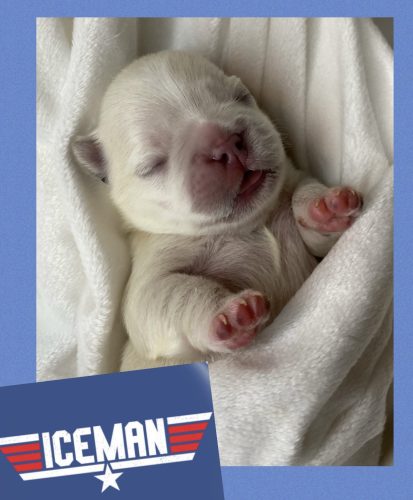 ---
Viper- Blue cream full fluffy boy
ata Coco dd ee l1l4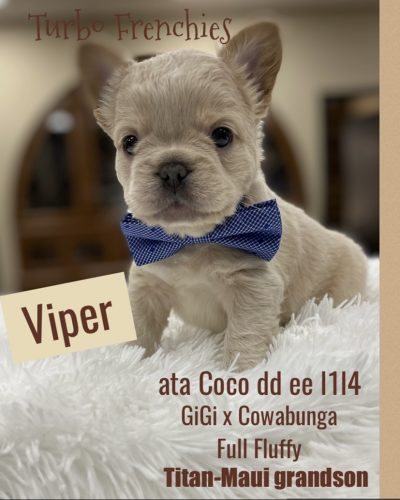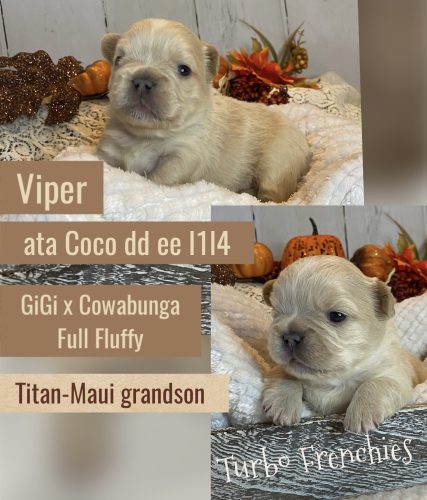 ---
Goose- RESERVED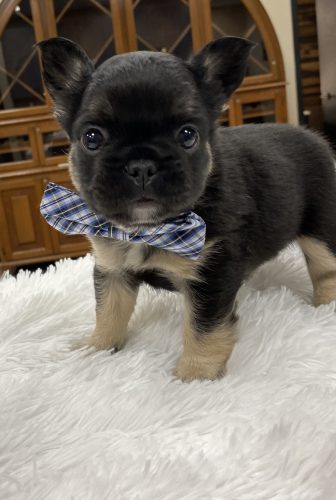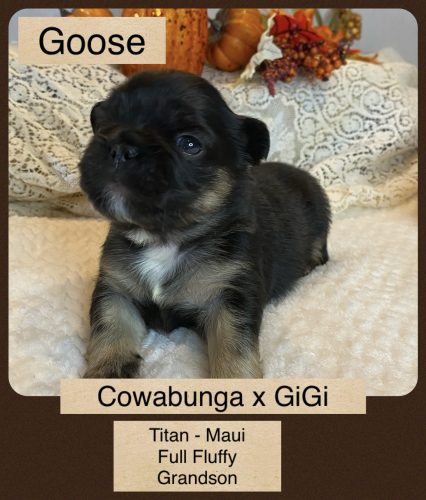 ---
UPCOMING LITTERS:
puppies expected in DECEMBER 2022
With careful planning, we've just wrapped up a few breedings
Now we wait and hope to be blessed with some beautiful babies!!!
---
Piper x Yuki
All puppies will be CREAM and will carry cocoa and blue
---
Maybel x Ammo
all puppies will be lilac and tan OR lilac sable
---
Scoobs x Codigo
Expecting fawns, blue fawns, black and tans, blue and tans
Some puppies could carry FLUFFY and PIED!!!
---
Brinkey x King Kuro
Expecting cocoa and tans AND black and tans
ALL puppies will be FLUFFY CARRIERS!
---
---
---
---

Pricing for our puppies

Prices will be set according to color, parents, pedigrees

AKC Registered

We produce great family companions, as well as top of the line quality for breeding programs
---
Please email Deanna@turbofrenchies.com 
for information regarding the waiting list
---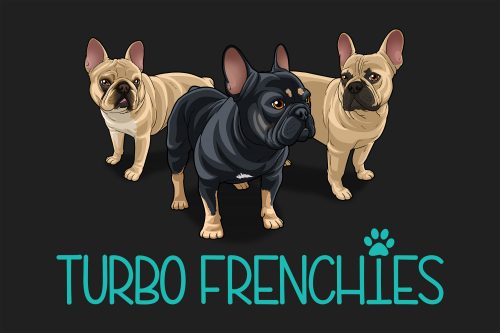 Please email
Deanna@turbofrenchies.com for information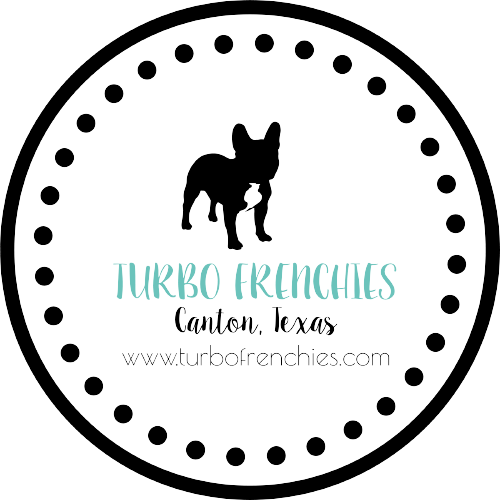 DISCLAIMER: We have the right to refuse service to anyone